Someone's getting something good this month, is it you?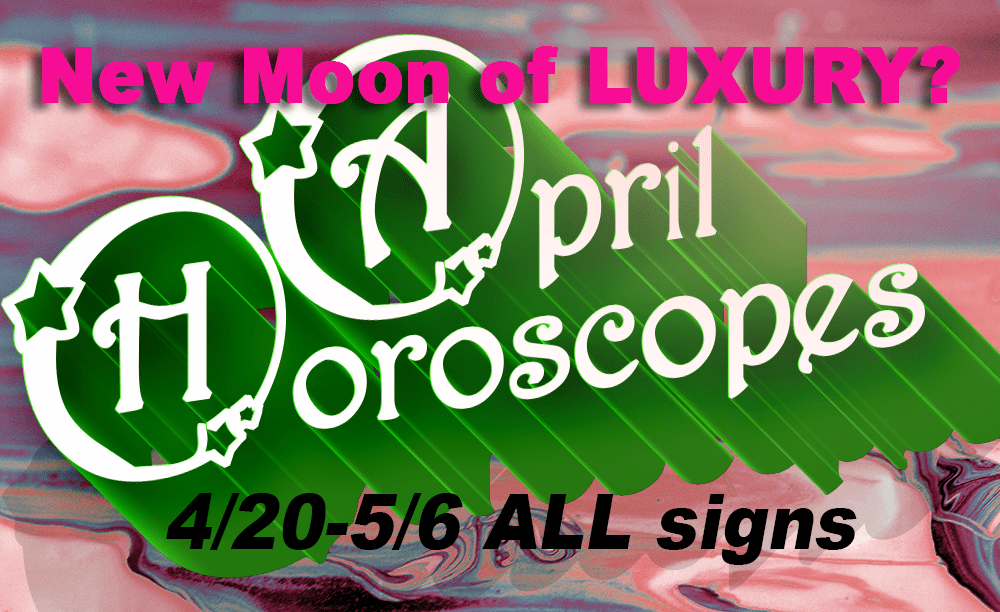 Weekly Horoscope: The New Moon in Taurus is a luxurious, sensual and prosperous New Beginning for those who take it to heart. This is a time to appreciate, indulge, luxuriate and just plain enjoy. Use this New Moon energy to help you manifest what you want by fully appreciating everything and expanding your senses. Here is this week's video:
The New Moon: time for starting something. This New Moon on May 4th is in conjunction with Venus – this really ramps up the energy of beauty, sensuality and luxury for the next two weeks.
Also in this weeks Horoscope: an opposition of Mars to Jupiter and Saturn turns Retrograde along with Jupiter and Pluto. All together this adds up to a LOT of reviewing and fixing things that have cracks in their foundations.
SUBSCRIBE to my Newsletter to be updated when I post my Weekly Horoscope. The MAY OVERVIEW will be posted later today so be sure to check back because MAY will be an eventful month and you don't want to miss anything.
***There is a TOTAL Solar Eclipse on July 2nd DIRECTLY on the USA
We are already under its influence and the aftermath will last until October at least. This particular Eclipse will be earth shaking and life-changing for those who's charts are getting direct hits from it.
A Total Eclipse on the SUN of the USA indicates massive events that effect the whole country. And therefore everyone who lives in the USA. I will be posting a video about this later this week. SUBSCRIBE to my Newsletter and get notified when it is uploaded and also subscribe to me on YouTube, leave a like and a comment. This helps my channel and helps me keep making videos and getting this important info out there to everyone.
Because of the upcoming Eclipse NOW is a great time to get an Astrology Reading in order to prepare yourself. And to know exactly how this Eclipse will effect your chart. Subscribers get special  benefits, discounts and information.
Thank you for reading my blog 🙂
I know your time is valuable and I know there is a LOT of distracting stuff out there trying to get your attention, and I promise you that I have spent my life finding and gathering the very best information that will help the most people! The info I present is not the same as what you get everywhere else and there is a reason for that; I want you to know what will really help you.
I have never rested at the surface level info or what is easy to find. I am a researcher by nature (Scorpio Rising) and I do not stop until I dig to the bottom of things. This is why some of what I say can sound odd or just somehow not what you expected. There is more going on than you are aware of. I am trying to help my people to benefit from it.
Thank you again and Namaste-
Aura