Virgo Aspects are a good time improve your health or routines. It's literally a great time to turn over a New Leaf.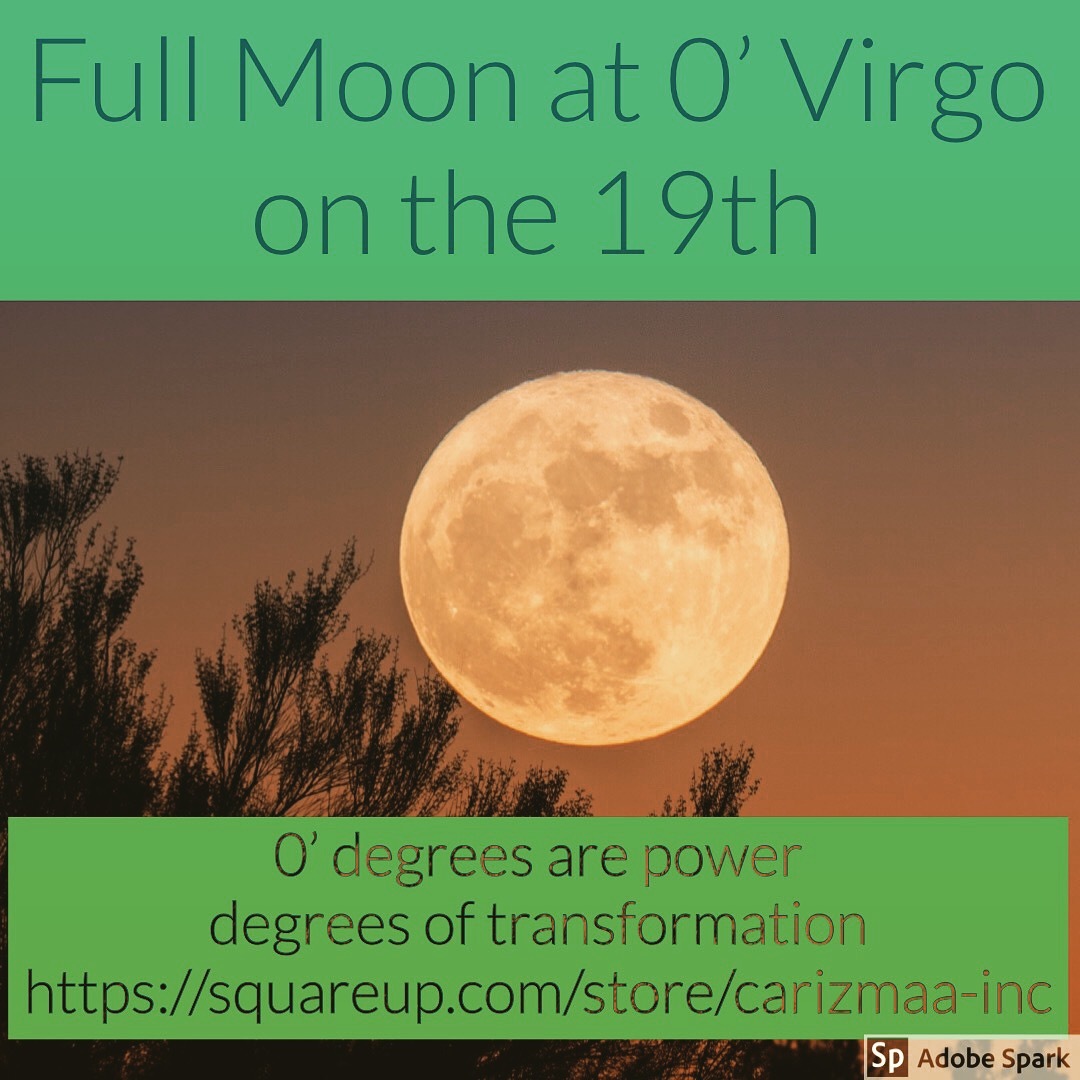 Virgo is the sign that most relates to health on all levels, physical, mental, emotional and spiritual. But since Virgo is an Earth sign it is most relevant to the physical world. At the 0 degree it brings in a brand new and extraordinarily powerful cycle for us all, but especially for those who have planets sitting at the very end or beginning of any sign.
Full Moons always signal something that is ready to be completed, has run it's course, is ready for harvest and must now move to it's next level. A good way to think of this is when a Butterfly breaks free of it's cocoon or a fruit drops from the tree. It has gone as far as it can go in one direction and that energy must now be released into something else.
Below is the Chart for the Feb 19, 2019 Full Moon in Virgo: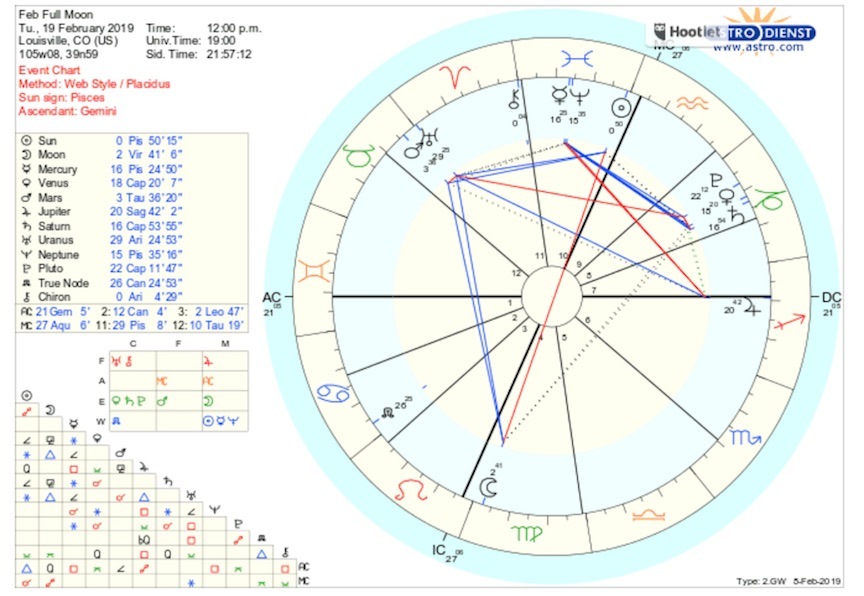 Although I use about 4 times as much info when I look at personal Charts for people this chart gives a basic idea of the aspects that are influencing all of us. We are currently in a time of HUGE CHANGE since we are crossing many doorways Astrologically. This means that we are collectively crossing many doorways as humanity as well. These doorways exist with Mars having just moved into Taurus (after making a sudden and shocking conjunction with Uranus). Next month Uranus will also move into Taurus where he dipped his toe last Spring only to run screaming for the hills in a hasty retreat.
Mark my words: Uranus in Taurus will bring in a massive BOOM in cryptocurrencies, as we will all soon need to transition into new forms of money.  Actually crypto has just made some exciting moves starting on the 18th which I expect to continue until the 21st before moving further DOWNWARDS. it won't be until late spring or early Summer that we start to see the kind of spectacular gains we got in early 2017 (20x on an investment was very common then). But I've known the value of crypto since before 2016.
Speaking of Value: Venus is about to cross Pluto and that's a buy me a lottery ticket aspect if ever there was one. It's also so sexy as the verge on the edge of obsessive! But, if you know it is making a good aspect in your own chart then go ahead, play the Lotto – or have that steaming hot date.
Let me know if you win 😉
Last year was a year of non-stop retreat as every planet that could go backwards did so – causing us as humans to be endlessly stuck on the hamster wheel of life, only backwards.
As much as things were stagnating last year (or giving off deceptive appearances) now this year we get to start to peek behind the illusions and pull the covers off of the BS artists who had control over nearly everything all year in 2018. You've heard of 'Fake News' well how about fake jobs, fake money, and fake people? Yes 2018 was full of it – literally. Now it is time for the NEW. And the REAL.
Change is rarely easy and these new things will come at the cost of some closely held beliefs, attitudes, habits or routines, Virgo guarantees it. The good thing about Virgo changes though is that as a malleable sign, anything related to Virgo is subject to change and rarely gets too heavily stuck to any one way of doing things.
The downside of this is endless overanalyzing. Stop it.I mean seriously, there is only so much thinking anyone can do before either taking action or dying from mental exhaustion!  Hopefully anyway since this Moon asks us all to figure out what we need to make adjustments to. With the opposite Pisces being affected too the Virgo Full Moon specifically asks us to focus on our dreams and give up our illusions and escapist tendencies (even if it's just watching too many soap operas) and get down and dirty with the practical – EARTHY – aspects of life. Cook some (real) food, plant some (real) plants and hang out with some bona-fide 100% authentic grade A humans. This is harder than it might seem.
Adjust away and dream the best future you can think of. Now is an excellent time to take up meditation and visualization. Set your intentions, focus your energies and take some useful action towards them. The newly minted Taurus Mars will help make that action solid, useful and cashworthy. Cha-ching!
++++++++++
AstrologyChick
If you want to book a private Astrology Reading with me then visit the AstrologyChick Store