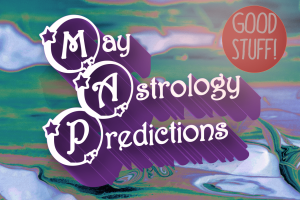 The May Astrology Prediction Horoscope Forecast is Here
This Month's Astrology Forecast Predictions focus on Money. We are getting a fantastic (but weird) Eclipse of Venus and Uranus. This will have a HUGELY unpredictable but good impact on us all. This is especially true if it is making direct contacts in your personal chart. This is a general Astrology Forecast so it won't predict for you personally. The only way to get a full understanding of what influences are affecting you is to have a Private Reading)
Here is the YouTube Video:
**Please note that this forecast mentions cryptocurrencies like Bitcoin going up in the middle of the month. It is not a direct forecast for Bitcoin or any other cryptocurrency. It is a general Astrology trend that is effecting everyone.
I am looking into the TRANSITS on Bitcoin and will be publishing a report with the GOOD and BAD dates for Bitcoin. It will include my long term Astrology forecast for Bitcoin and Bitcoin Cash. Timing Astrology forecast predictions for Bitcoin will be good for the Crypto market as a whole. This is because Bitcoin is the yardstick for the whole marketplace (reserve currency). But for now I am not getting into individual currencies with Astrology predictions. Get notified when I publish this report — be sure to SUBSCRIBE to my Newsletter.**
ASTROLOGY LOVE FORECAST
I talk mostly about Money with this upcoming Venus-Uranus Eclipse, but you should know that it is also going to be a great time for LOVE and just plain enjoying the good things in life. It is not particularly restful though! Uranus never is. You could experience a bolt out of the blue, love at first sight, an intense attraction and chemistry with a new love. This would be a love that should have friendship and a connection to humanity and its greater needs at its core. This could also be a relationship or meeting that takes place over the internet or in digital land somehow, OR at a large event or gathering.
These May Astrology Forecast aspects also point to strokes of genius, innovative ideas and useful, practical needs being solved in inventive, unexpected and brilliant ways. The higher mind is illuminated with these aspects. There will be both be a clearing out of old useless ideas and beliefs and the sudden influx of insight and even spiritual, psychic downloads of higher vibrational information. Pay attention! Take notes! This stuff is really worthwhile. This is bound to be an exciting and fun Month 🙂
As always, thank you for visiting and reading my Blog,
Namaste-
Aura